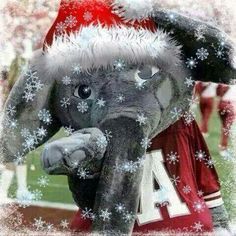 Please join the Greater New York City Chapter to celebrate the season.
UANYC HOLIDAY PARTY

We hope you'll join us at Clancey on Wednesday, December 6th from 6:00 - 9:00pm for our holiday party. It's been another incredible year and there's no better way to celebrate than raising a glass together.

Hors d'oeuvres will be served from 6:30-8:00 p.m and tickets inculde two free drinks good for either beer or wine.

Raffle items include:
-A football signed by Nick Saban
-Two tickets to the pregame party at the President's Mansion (game of winner's choice)
-A signed copy of 4th & Goal Every Day by Phil Savage and Ray Glier
-Unlimited booze brunch for four at Raise New York sports bar
-Ticket package to a home football game: two football tickets, two Scholarship Club pregame meal passes and one reserved parking pass
(winner can choose among Texas A&M, Missouri or Miss State games)
-Two tickets to MSU

To Puchase tickets click the link here or on the blue box at the bottom of the screen:
Click here to buy tickets!!!

Confirmed guests include:
Dr. Stuart Bell & Susan Bell- President of The University of Alabama
Calvin Brown- Director of Alumni Affairs, Associate Vice President
Greg Byrne- Athletic Director
Chad Coker- NAA President
Jay McPhillips- Associate Director of Regional Development
Courtney Page Miller- Director of Alumni and Corporate Relations of Culverhouse College of Commerce
Kay Palan- Dean of Culverhouse College of Commerce
Amy Baker Parton- Director of Advancement of Human Environmental Sciences
Hill Rowan- Development Officer of Culverhouse College of Commerce
Lucy Arnold Sikes- Director of External Affairs

The annual holiday party offers a wonderful opportunity to catch up with old friends and make new ones with Alabama alumni in the New York City area. We extend our southern hospitality to all guests, the senior administration of the University and the Athletic Department.

SUPPORT UANYC!
Elephants never forget so make sure to support the Greater New York Chapter. JOIN the chapter or RENEW your membership today!